At Stratcom we are responsible for maintaining a yearly body of communications that enhances LAU's reputation and supports key objectives of the university. In doing so, we follow a plan approved by the President's Cabinet in 2017, and revisited regularly, and we perform the functions explained below. You can access the plan's executive summary here. If you need the full plan, please email us with more details about your requirements.
Getting the story out
Highlighting LAU's strengths to external audiences is our core activity. Our goal is to forge a bright, evidence-based reputation for LAU. We constantly seek opportunities to get success stories out through various channels.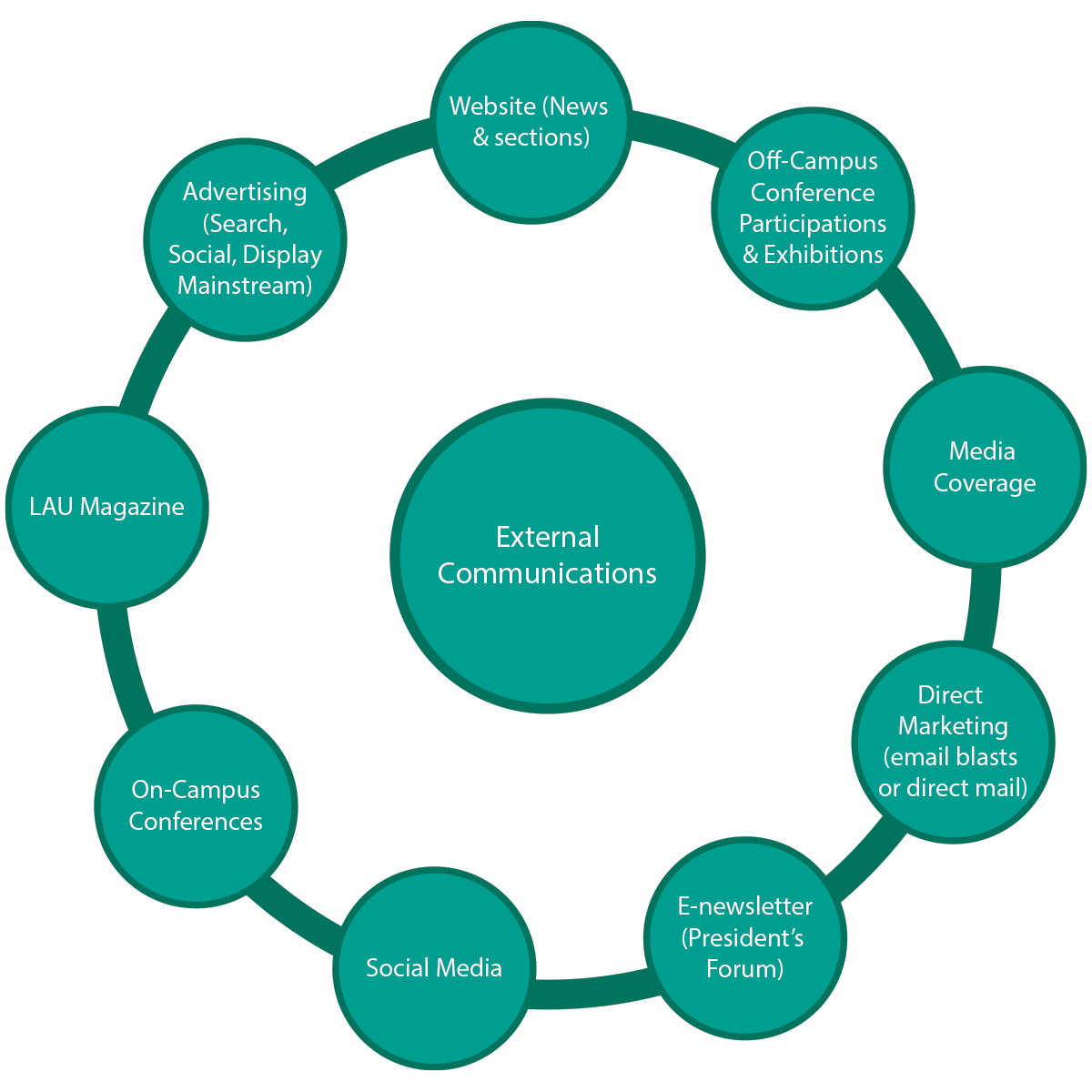 If you hear of any achievements by faculty/students/alumni, have on the horizon any new people/facilities/programs/changes of note, or are planning major events, please contact us. The sooner you inform us, the better we'll be able to capitalize on the opportunity.
Engagement
Communications are key in getting people involved in our programs and activities. When there is a need to elicit a response or action from the audience — applying to a program, submitting a paper, attending an event, using a little-known service, making a gift — Stratcom can help fulfill it by crafting tailored campaigns.
Priority is given to well-planned major events that attract external audiences, and to revenue-generating activities, including fundraising and student recruitment.
Early planning is essential. If your program or event requires this type of support, please contact us.
Branding
In telling our stories and crafting campaigns, we follow a conceptual framework that defines the brand of our institution. This helps us differentiate ourselves against other institutions, ensure consistency, and connect with our most important audiences by projecting the value we bring to their lives.
These are the elements of our branding strategy:
Brand positioning:
Dare Forward. To students seeking to succeed in their careers, the Lebanese American University is the most forward-moving university in Lebanon that enables its students to step ahead with its dynamic, modern, on-the-move approach to education. (Approved by the President's Cabinet and the Council of Deans in September 2017.)

Brand model:
The main institutional brand, LAU, is to be always emphasized as it is the most recognized brand — the one with most pull among external audiences. All sub-brands must clearly show their relationship to LAU, in a manner that reinforces the institutional brand. Stratcom has devised a system that ensures this approach. No sub-brand may have a separate identity unless approved by the President's Cabinet.

Visual identity:
The key elements of our visual identity are our color (LAU Green) and our logo. The PC-approved visual identity style guide sets the parameters for logo and color usage. Our handy templates also ensure compliance. Some aspects of our visual identity are being reworked under the stewardship of an adhoc group.
If you have any questions about the LAU brand and sub-brands, please contact us.
Based on the direction of the President's Cabinet, Stratcom is currently conducting a branding review.
Crisis communications
Stratcom centralizes all media communications (including social) in the event of a crisis of any type. Major crises are handled by the President's Cabinet or its designated steering committee, which may appoint a spokesperson. For other cases, the main point of contact is the director of media and public relations. There are no other assigned spokespersons for LAU.
If you are facing a situation that could harm LAU's reputation, you must report the issue promptly. It is best to raise an early warning by bringing up delicate situations to Stratcom before they become full-blown crises. This enables us to monitor the matter and plan for proper responses.
Stratcom will utilize key communication tools as appropriate: website, email, social media channels, news media.
For all crisis communications matters, please contact us directly as soon as possible, at:
Salim Tannous
Assistant Vice President for Strategic Communications
Office Number: +961 1 786 456 Extension: 1148
Email: salim.tannous@lau.edu.lb
Internal communications
LAU's best ambassadors are found in its community — students, faculty members and staff. Keeping others informed of your plans, news and projects and inviting stakeholders to take part can help spread the best of LAU far and effectively.
Stratcom's role is to provide help in identifying stakeholders, devising key messages, selecting appropriate channels, and in some cases producing and publishing the needed communications.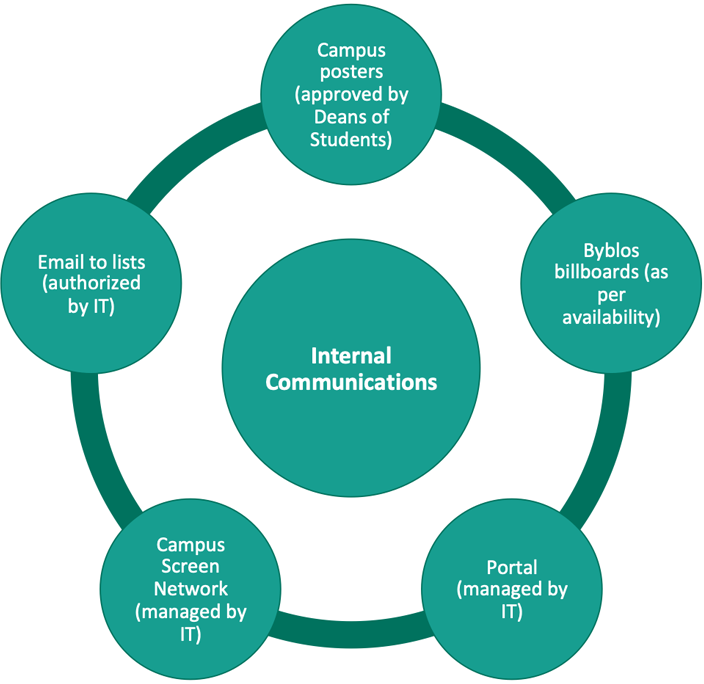 Notes:
Email to groups such as "all@lau.du.lb" require IT authorization.
The campus screen network is managed by IT.
On-campus poster placement is managed by the office of the Dean of Students.
Email list allstudents@lau.edu.lb is managed by the office of the Dean of Students.
Email list allalumni@lau.edu.lb is managed by the office of Alumni Relations.